Weston & Sampson provides full-service Electric Vehicle (EV) charging station services, including:
Siting / permitting

Engineering design (electrical, structural, civil)

Installation

Coordination with solar canopy designs / installations

Procurement of utility rebates, state and federal grants, and other incentives

Hosting / payment platform management

ADA parking considerations/requirements
Weston & Sampson's team includes electrical, structural, and civil engineers, planners, licensed electricians, and energy specialists who can help our clients through the entire EV charging station process from initial concept designs to installation to long-term hosting. We can also incorporate the installation of EV station pads and conduits into our designs for the client to subsequently install their own EV charging unit.
Our assistance also includes permitting support, presentations at public hearings, and working with local boards to ensure these projects receive the community support required for implementation. We are also able to leverage available grants, incentives, and funding sources to help customers reduce their overall installation cost and support a business case for these projects.
Electric vehicle charging stations are a way to reduce greenhouse gas emissions, provide a stable revenue source to a local community, and achieve municipal and state climate goals.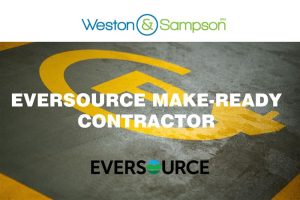 Weston & Sampson is officially designated a Make-Ready Contractor with Eversource for electric vehicle (EV) charging infrastructure. As such, we are one of a select few contractors approved to install the infrastructure necessary to "make ready" a site for EV charging stations. This designation is the result of close collaboration between Weston & Sampson Engineers, and Weston & Sampson CMR (Construction, Maintenance, and Repair), as design plans must be prepared ahead of each EV station installation.
As resiliency and sustainability are focused initiatives reflected throughout our business practices, the ability to design new and modify existing infrastructure to provide sustainable communities is part of our firm's core mission.
The Make-Ready designation ensures that our clients receive early engagement and comprehensive solutions for individual EV projects, benefiting from our interdisciplinary EV station installation and subsequent O&M services for a seamless and integrated experience.
Contact our Electric Vehicle Charging Station Experts to learn more about how we can assist your community