Invalid slider ID or alias.
CAREER EVENTS
Weston & Sampson attends several campus and recruiting events annually. Check us out during your virtual Career Fairs this fall.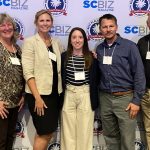 Best Places to Work in South Carolina
-
The next public engagement event on February 1, 2023 at 7PM will focus on Solutions for Future Flooding.



Riordan Awarded RI-APA Dan Varin Memorial Leadership Award
-
Jim Riordan, AICP, LEED®AP has been awarded the Dan Varin Memorial Leadership Award by the Rhode Island Chapter of the American Planning Association.