Malcolm Beeler, PCB Technical Lead at Weston & Sampson, will be co-chairing and presenting during an upcoming webinar put on by the Environmental Business Council of New England (EBC)'s Connecticut chapter titled "PCB Clean-up in the Northeast – Understanding Proposed Changes in the CT PCB Regulations and Managing Disposal" on Friday, November 6, 2020 from 9:00am – 12:00pm.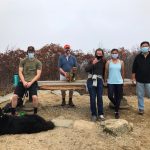 EPIC Group Hikes Mt. Wachusett
-
Weston & Sampson employees, with spouses/significant others and pets, recently made a socially distant and COVID-safe trek to the summit of Mt. Wachusett.
Career Culture at Weston & Sampson
-
At Weston & Sampson we're creating community through innovation. CHECK OUT THIS VIDEO and come transform your environment with an engineering career at Weston & Sampson.