Representatives of Weston & Sampson will present during the course of the 2021 New England Water Works Association's 140th Annual Conference, taking place September 7-10, 2021.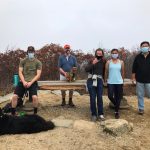 EPIC Group Hikes Mt. Wachusett
-
Weston & Sampson employees, with spouses/significant others and pets, recently made a socially distant and COVID-safe trek to the summit of Mt. Wachusett.
Career Culture at Weston & Sampson
-
At Weston & Sampson we're creating community through innovation. CHECK OUT THIS VIDEO and come transform your environment with an engineering career at Weston & Sampson.