COASTAL, RIVERINE HYDRAULIC STRUCTURE DESIGN
Weston & Sampson brings the latest in coastal resources and climate resilience science to our many coastal and riverine design projects.  Whether we are designing a living shorelines, developing climate resilient waterfront shorelines, or evaluating future sea level rise impacts along rivers, we are using the latest in hydrology, hydraulics and climate science to ensure that our design projects are sustainable far into the future.  Municipal infrastructure including roads, buildings, drinking water, wastewater, stormwater and coastal features are all threatened by the impacts of extreme precipitation, sea level rise and storm surges.  Our scientists and engineers can ensure that infrastructure planned, designed and built today will stand ready to perform well into this century.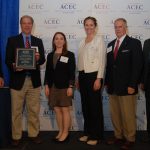 -
Weston & Sampson received two Engineering Excellence Awards during the 2019 ACEC-SC Engineering Excellence Gala - "BCWS PS001 Rehabilitation" for Berkeley County Water and Sanitation and "Church Creek Stormwater Basin Study" for the City of Charleston, SC.
Weston & Sampson is pleased to welcome Steven Roy, LEED AP
-
Weston & Sampson is pleased to announce Steven Roy, LEED AP as Senior Technical Leader responsible for climate adaptation and stormwater green infrastructure pursuits.