DAM STUDIES
Weston & Sampson has considerable expertise with assessing dam safety and stability. Our engineers have conducted and reported on safety inspections of over 100 publicly and privately owned dams. We completed these inspections in accordance with federal and state guidelines and included safety evaluations of all dam components including embankments, spillways, training walls, and overflow controls.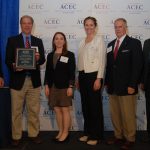 -
Weston & Sampson received two Engineering Excellence Awards during the 2019 ACEC-SC Engineering Excellence Gala - "BCWS PS001 Rehabilitation" for Berkeley County Water and Sanitation and "Church Creek Stormwater Basin Study" for the City of Charleston, SC.
Weston & Sampson is pleased to welcome Steven Roy, LEED AP
-
Weston & Sampson is pleased to announce Steven Roy, LEED AP as Senior Technical Leader responsible for climate adaptation and stormwater green infrastructure pursuits.