FEMA DOCUMENTATION / FLOOD STUDIES
Weston & Sampson has completed several flood studies involving hydrologic/hydraulic analyses and stream channel and storm drainage modeling. Our team's experience includes hydrologic & hydraulic (H&H) modeling related to large-scale watersheds, structures, and several miles of stream improvements. Our expertise includes designs involving storm drainage improvements, culvert replacements, and open channel improvements to relieve flooding and obtain Flood Management Certification permit approvals. Weston & Sampson follows FEMA regulatory compliance for design standards for projects in FEMA flood zones and floodways, and we have extensive experience with FEMA-related regulatory approvals and documentation related to FEMA Conditional Letter of Map Revision (CLOMR) and FEMA Letter of Map Revision (LOMR) approvals.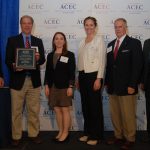 -
Weston & Sampson received two Engineering Excellence Awards during the 2019 ACEC-SC Engineering Excellence Gala - "BCWS PS001 Rehabilitation" for Berkeley County Water and Sanitation and "Church Creek Stormwater Basin Study" for the City of Charleston, SC.
Weston & Sampson is pleased to welcome Steven Roy, LEED AP
-
Weston & Sampson is pleased to announce Steven Roy, LEED AP as Senior Technical Leader responsible for climate adaptation and stormwater green infrastructure pursuits.