GREEN INFRASTRUCTURE
Weston & Sampson has a history of preparing sustainable site designs utilizing Low Impact Development (LID) techniques and other sustainable practices. By implementing LID techniques, we are able to assist our clients in meeting their project goals by preserving or restoring a site's hydrology; preserving open space, native plants, and wildlife; reducing infrastructure and development costs; improving water quality; reducing flooding; improving site aesthetics; and providing pedestrian friendly neighborhoods.
Our experienced professional staff has been in the forefront of implementing LID techniques through project planning, permitting, and design. Through collaboration, our team of civil and environmental engineers, landscape architects, and environmental scientists implement LID strategies that support our clients' goals.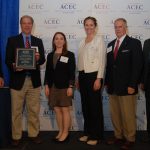 -
Weston & Sampson received two Engineering Excellence Awards during the 2019 ACEC-SC Engineering Excellence Gala - "BCWS PS001 Rehabilitation" for Berkeley County Water and Sanitation and "Church Creek Stormwater Basin Study" for the City of Charleston, SC.
Weston & Sampson is pleased to welcome Steven Roy, LEED AP
-
Weston & Sampson is pleased to announce Steven Roy, LEED AP as Senior Technical Leader responsible for climate adaptation and stormwater green infrastructure pursuits.