WATER QUALITY / MS4 COMPLIANCE
Weston & Sampson has provided stormwater management services, including MS4 compliance services, for clients throughout New England, assisting with all aspects of compliance.  This includes preparation of Stormwater Management Plans, Illicit Discharge Detection and Elimination (IDDE) Plans, Drainage GIS Mapping, Stormwater Pollution Prevention Plans (SWPPPs), Operation & Maintenance Procedures, stormwater regulatory updates, assisting with public education initiatives, performing IDDE and SWPPP Training, delineating and ranking outfall catchments for IDDE investigations, performing dry and wet weather screening and sampling, performing catchment investigations to identify illicit discharges, and preparing Annual Reports.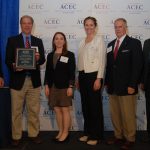 -
Weston & Sampson received two Engineering Excellence Awards during the 2019 ACEC-SC Engineering Excellence Gala - "BCWS PS001 Rehabilitation" for Berkeley County Water and Sanitation and "Church Creek Stormwater Basin Study" for the City of Charleston, SC.
Weston & Sampson is pleased to welcome Steven Roy, LEED AP
-
Weston & Sampson is pleased to announce Steven Roy, LEED AP as Senior Technical Leader responsible for climate adaptation and stormwater green infrastructure pursuits.