OUR STUDIO
Weston & Sampson's landscape architects and urban designers have consciously chosen to focus their careers on creating landscapes that improve quality of life. From conceptual design and grant-writing assistance through community engagement to final construction documentation and construction oversight, our team focuses on design excellence while understanding the importance of long-term project resilience.
As an integral part of an interdisciplinary company, our landscape architects have access to in-house resiliency, civil, structural, and infrastructure engineers; environmental site professionals; stormwater experts; and scientists. These collaborative and comprehensive team capabilities enable our designers to produce creative and innovative open spaces that are technically sound and constructible, and that will stand the tests of climate change and sea level rise.
Weston & Sampson's designers use sustainable design strategies and materials in sophisticated ways to support their work in park and recreation designs, historical and environmental restorations, and the adaptive reuse of post-industrial Brownfields properties and landfills. All of our designs follow universal and inclusive principles to ensure accessibility and eligibility for federal, state, and local matching grants.
OUR SERVICES
Inclusive playgrounds
Public commons and town greens
Urban redevelopment
Downtown village centers and streetscapes
Neighborhood parks and community spaces
Resilient waterfronts
Track and field complexes, courts, and competitive facilities
Water-based recreation and aquatic facilities
Skate parks and parkour courses
Multi-use trails and greenway systems

Conservation land planning and programming
Community gardens and urban agriculture
Memorials and interpretive spaces
City and town-wide open space plans
State park and forest amenities
Parkways and roadways
Campus master planning and design
Ecological planning and design
Specialized public engagement
Group programming and planning
Shoring Up The Steep Banks At Levingston Cove
-
Achieving universal accessibility at Crystal Lake's shoreline park By Cassie Bethoney One of only a few public parks along the shores of Crystal Lake, Louise Levingston Cove is a linear, half-acre public park located in a residential neighborhood. Crystal Lake, and Levingston Cove in particular, is a place of nostalgia, where people learned to fish […]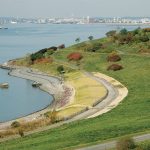 Stone Soup: Building Resilient Parks One Ingredient at a Time
-
"Stone Soup," authored by Cheri Ruane, FASLA, explores the concept of resilient parks and their significance in mitigating climate change impacts, one step at a time.
Contact Our Landscape Architecture Experts to learn more about how we can assist your community
425 MEDFORD STREET Visualization, Charlestown, Massachusetts