VISUALIZATION
Weston & Sampson's full-service visualization capabilites address the complex challenges of today's projects. Our in-house visualization studio offers a range of media services, producing cost-effective, high-end 3-D models and animations, from stunning 3D environments, photorealistic renderings, animations, and interactive fly-throughs where the user controls the view.
Our animated and still images maintain engineering integrity related to the surrounding physical features and are useful for:
public meetings
marketing materials and proposals
supporting applications such as construction, inspections, asset management, and others.
Our toolbox includes Microstation V8i, LumenRT, SketchUp, GoogleEarth Pro, Adobe AfterEffects, Adobe Premiere, Adobe Photoshop, Adobe Illustrator, Revit, Scene, and AutoCAD Recap.
Weston & Sampson welcomes Jerry Corr
-
We are pleased to announce that Jerry Corr has joined Weston & Sampson as a Principal GIS Consultant in our Water Practice.


Jamison Earns UAS Certificate
-
In obtaining his US Unmanned Aircraft System (UAS) Remote Pilot's certificate, Jamison passed the FAA Remote Pilot Knowledge & NCDOT UAS Operators Knowledge Tests.
VIRTUAL & INTERACTIVE MODELS (3D)
3D virtual and interactive models provide interactivity in a 3D environment using Augmented Reality (AR) or Virtual Reality (VR). With this level of visualization, the viewer is fully immersed in the 3D world and can navigate at will as they "walk" through the environment.
Durham NC East End Connector Visualization
The East End Connector project in Durham County, North Carolina was conceived to create a freeway link between major interstates in the central part of the state in an industrialized area that lacked connectivity.
The project consisted of four interchanges in just over two miles of mainline roadway and required twelve bridges including the span of a seven track railroad switch yard with accommodations for future light rail. Presenting a representation to the local community of what to expect when the project was complete was instrumental in the success of the project.
The East End Connector visualization allowed viewers to gain an understanding of the complexity of the project and how it would ultimately effect traffic flow.
NCDOT A-0011C NC-69 Widening
Weston & Sampson provided static 3-D images and a user-controlled drive-through video visualization to provide stakeholders a better understanding of proposed road widening changes NC69 in North Carolina. The visualization won a platinum award from AVA in 2020.
Weston & Sampson also provided preliminary and final roadway and hydraulic designs, utility design and coordination, and permitting for this NCDOT project.
Centennial Beach Virtual Tour
Weston & Sampson created a virtual tour to walk town officials and the public through the user experience of one of the town's greatest under-utilized public assets. The fly-through imagery and graphics were used to secure funding with a public vote.
RENDERING / ANIMATION (3D)
Rendering / animation provides 3D still renderings and / or animations of infrastructure to contrast existing conditions against proposed change conditions. Use of this level allows you to gain a realistic view into what to expect with changes to main roads, side roads, traffic flows, and structures. Animations include fly-overs of roads and structures from a bird's eye view, to street level views of traffic passing through a particular area, to "behind the wheel" where you are in the vehicle traveling down the road, or a combination of all three.
This is the most dynamic solution we offer containing moving vehicles, traffic flows, interaction with people crossing traffic, weather conditions, and day/night views. Also, static 3D images can be rendered from animations.
Graham County (NC) Bridge Widening Visualization
The Graham County (NC) bridge widening project (NCDOT B-3458) visualization was produced to show residents the impact of a new bridge on their property and environment.
Langone Park & Puopolo Playground Renderings
Renderings as part of final designs for the complete refurbishment of this signature waterfront park in Boston's historic North End. Efforts include climate-resilient designs and coastal resiliency measures.
Sacarrappa Road, Oxford, MA Visualization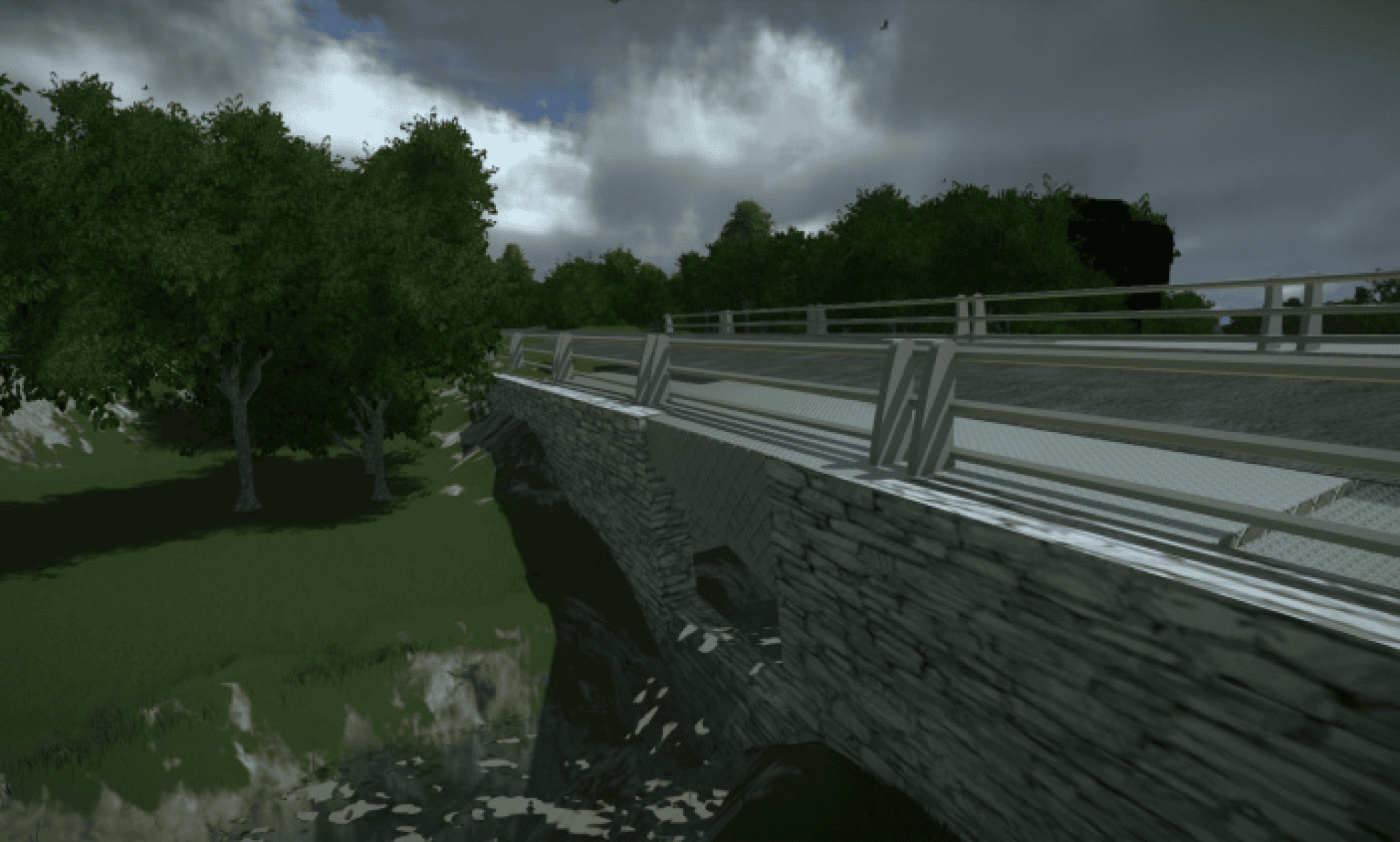 This rapid-development visualization for a culvert replacement project that involved raising the profile of an existing roadway and installing retaining walls on a bridge was used by the Oxford DPW Director in a meeting with the Town Select Board.
PHOTO COMPOSITING (2D or 3D)
Photo compositing provides "before and after" imagery of your project. We build 3D objects and render them into highly accurate, photorealistic still images of proposed infrastructure improvements.
Graham County (NC) Bridge Widening Visualization
The Graham County (NC) bridge widening project (NCDOT B-3458) photo composite shows the existing bridge (first image) as compared to the proposed bridge (second image) that would take its place. The composite images showed residents the impact of the new bridge on their property and environment.
Coastal Resiliency Vulnerability Visualization
Visualization created as part of the City of Lynn, MA vulnerability assessment and adaptation planning efforts to identify and minimize risks, promote public awareness, and develop longer-term planning to increase coastal resiliency.
HD SCAN / VIDEO CAPTURE / PHOTO SERVICES
Our services provide capturing of environments via HD Scans, video, or photos. Our high-speed FARO Focus 3D X330HD laser scanner collects detailed measurement and documentation information to produce 3D images of complex environments and geometries within minutes. Images can be animated to create a building fly-through effect that travels from room-to-room to document building contents or construction phases.
41st Street, Wilmington, NC HD Scan and Fly-through
41st Street in Wilmington, NC was scanned using a high-speed FARO Focus 3D x 330 laser scanner. The resulting image is an assembly of millions of 3D measurement points that provide an exact digital reproduction of existing conditions. These points were then animated to create a fly-through of the entire street from beginning to end.
Raleigh-Durham International Airport HD Scan
Image of the Communications Vault at Raleigh-Durham International Airport (RDU) created using FARO X330HD laser scanning to collect interior and exterior details and produce an interior fly-through animation. Scans exported to Autodesk ReCap and animation rendered in Autodesk Revit.